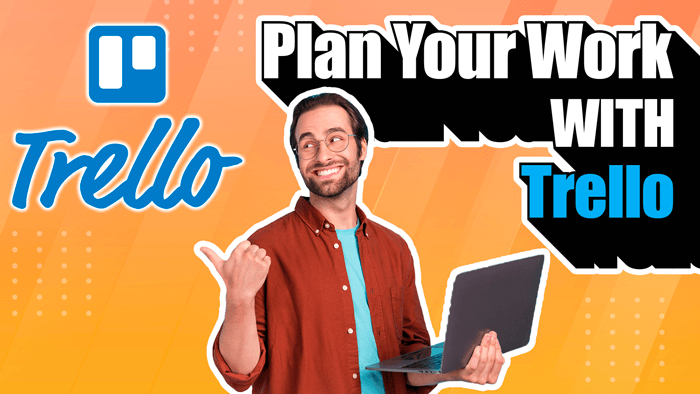 Hello and welcome to my website!
Do you know the easiest way to manage your work projects efficiently?
Today I present to you TRELLO! A collaboration workspace tool for users to manage all kinds of projects!
By reading this article, you will discover:
What is TRELLO?
What are its features?
What are the pros?
What are the cons?
Verdict
Hi, my name is Jason and, on my website, you will find many articles that will help you discover the best tools for your business to grow your business.
Let's get started!
First, let's talk about what is TRELLO?
Trello is a joint work management app designed to track team projects, highlight tasks underway, show who they are assigned to, and detail progress towards completion.
At its core, Trello relies on the principles of Kanban project boards to visualize workflows, providing managers and team members with a simple overview of a project from start to finish.
Because Trello makes a team's work a lot easier, it utilizes boards, lists, and cards that can be manipulated to utilize and prioritize projects in a flexible way.
Each of these tools serves a specific purpose, with the boards presenting the projects and their information; the catalogs having the titles; and the cards serving as the basic unit of every card in Trello.
To show the progress of the project and the individual tasks, users have the option to move the lists to the appropriate boards and choose to store the finished tasks to the cloud or to their profile.
Boards are the starting point, and typically focus on an overarching project such as launching a new website, or process-based tasks, such as on-boarding an employee.
Within each board, several catalogs can be created to indicate the progress of a project; "to do," "in progress," and "done" lists are common examples.
Individual cards within the listings hold information on a specific task and can be moved from list to list as needed, such as when a task is completed.
Each card can contain a broad range of task information, including a text description, file attachments, automations, comments, and more.
Users navigate Trello from a "home view" that acts as a hub and central newsfeed. This allows them to easily jump to boards or surface all of the cards a user might have missed since last logging in.
Now, let's talk about what are the features of TRELLO?
Because of the many advantages users have experienced when using Trello, this online project management software has become really popular.
As a tool for project management, it gives its users the power to collaborate with their members and run tasks related to their projects without switching from one app to another.
With just one look, users are able to see the tasks and who they are assigned to, as well as what has already been done to them. Moving these tasks around the platform is also easy and indicates the progress of the project.
TRELLO integrates well with other applications, too, using what the company calls "power-ups." These API integrations allow users to access features in Slack, Salesforce, Gmail, or other apps, as well with Atlassian's own products directly from Trello.
A big part of Trello's appeal is its ease of use and versatility. You can make Trello boards and cards even more visual thanks to card covers and colors. You can upload your own photos or use the Unsplash Gallery to set a front cover display on your Trello cards.
Another great feature of TRELLO is Butler. Butler allows you to set up automations, rules, and commands on your Trello boards in order to cut down on repetitive work. Best of all, Butler doesn't require advanced coding skills. Automations are easily created using natural language. It's like productivity Mad Libs.
You can also use card buttons to set up a variety of aspects on your Trello cards. For instance, a card button, when clicked, could shift that card to a specific catalog, schedule dates for the future work, add a board member, and apply a specified label.
There's so much to uncover with Trello through Butler, it's definitely worth the time to explore, test, and automate. The more you use it, the more it learns your behavior to make tailored recommendations thanks to its AI capabilities.
Furthermore, you can enable dark mode in the Trello app for iOS and Android to avoid any screen effects on your eyes at night. So, if a great idea strikes in the middle of the night or you just need a break from the traditional format on mobile, you can enjoy Trello at all times of the day.
If you want to try this tool or just have a look, then click here.
And now let's see what the Pros of this tool are.
Well, this tool organizes the tasks very well, you can create lists, and with simple drag and drop, you can manage different states of tasks. You can easily shift cards from one board to another when completed.
Availability of Plugins makes it super feature-rich; you can achieve almost any feature with the help of plugins.
Automation bots make it super powerful to do repeated or pre-defined tasks automatically.
TRELLO is a very flexible and mobile friendly tool to manage all kinds of projects.
With business Class subscription, you can simply add a checklist to any card, write in the tasks as items on the list, and assign a team member and due date right there on the task. This gives everyone on the team a clear understanding of who is tackling what and when these subtasks need to be reviewed or completed.
But are there cons?
Well, even the best management tools have limitations, and TRELLO is no different.
While it's easy to move things around in TRELLO, the general structure is a bit rigid as the projects are contained in columns, which can make more complex projects more difficult to visualize sometimes.
Verdict
So, should you use TRELLO as your project management partner? Well, Trello is full of fun and powerful features to take your work to the next level. Its easy to use as Trello syncs all information across devices, whether via desktop, tablet, or mobile apps.
Email integration allows users to create task cards and add comments from their inbox. Users can also use emojis to liven up discussions. A free, public developer API is also available with the software, but the enterprise plans offer more advanced features and integration controls to the tool.
So, have you ever tried it, or would you like to test it?
Remember that you can try this tool directly by clicking here to get exclusive benefits.
Let me know in the comments what you think and if you have any doubts or questions write to me and I'll get back to you soon.
See you in the next article!