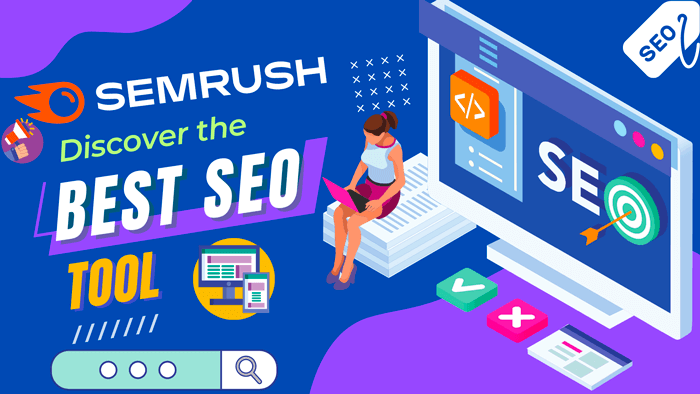 Hello and welcome to my website!
Do you know the easiest way to improve your website visibility?
Today I present to you SEMRUSH! A tool that helps to optimize your website for search engines!
By reading this article, you will discover:
What is SEMRUSH?
What are its features?
What are the pros?
What are the cons?
Verdict
Hi, my name is Jason and, on my website, you will find many articles that will help you discover the best tools for your business to grow your business.
Let's get started!
First, let's talk about what is SEMRUSH?
SEMRUSH is used for keyword research and online ranking data, including metrics such as search volume and cost per click.
The platform collects information about online keywords gathered from Google and Bing search engines.
Created in 2008 by Oleg Shchegolev and Dmitry Melnikov, it now has a very large user base, over 7 million users, according to the company, and is one of the most popular SEO tools currently available.
SEMRUSH works by giving you a lot of information, which you can use to find out what people are searching for on Google, create new web content that is likely to attract traffic, identify link-building opportunities, and tweak technical aspects of your site content so that it achieves a higher search ranking.
Based on the phrases you enter, SEMRUSH can give you keyword suggestions that can be used as the basis for writing blog posts that are likely to perform well in search results.
It can also tell you how difficult it will be to rank for specific search queries.
It suggests websites that might be worth approaching for backlinks.
And it allows you to perform an SEO audit on your website to find out if there are any technical improvements you can make to it that will help you achieve better search results.
Now, let's talk about what are the features of SEMRUSH?
SEMRUSH delivers a wide array of functionality across ad-hoc keyword research, ongoing search position monitoring, and much more.
It's very easy to perform domain analysis in SEMRUSH — you just enter a domain URL in its 'domain overview' section, and you get an immediate sense of how it's performing in search results.
The Backlink Gap tool is like the Keyword Gap tool, only for comparing backlinks for a specific website against four competitors.
One useful metric in this tool is the "Best" backlink category, which highlights websites that link to all of your competitors but not to your website.
A "Weak" backlink section displays domains that point to your website less frequently than your competitors.
Semrush's position tracking tool lets you set up domains to monitor a visibility score which is based on current keyword rankings and click through-rate estimates, to check the top 100 keywords and if they are improving, stable, or declining, and to check pages that are improving or declining.
There's also a cannibalization report that shows if your site has overlapping content where keywords are potentially competing against each other. This feature is only available for Guru and Business plans.
SEMRUSH populates what specific keywords your competitors lost, so you can find opportunities for your domain, and which keywords are new for them, and track changes with the Position Changes report.
To conduct even trickier comparisons, the company created a Domain vs. Domain tool, which allows you to see what keywords your competitor is ranking for, and you are not yet.
The platform's renovated Position Tracking tool includes smart filters that allow you to check which of your target keywords trigger different SERP features, which of those SERP features you've managed to earn, and which of them your rivals occupy.
The tool identifies what pages have the highest probability of ranking in SERP results, with an added bonus for hyper-local SEO targeting: you can set up multi-targeting campaigns that track several locations or devices at once, drilled down by city, within a single project.
The tool's Trello integration with also allows you to create a Trello task and delegate work to team members.
If you want to try this tool or just have a look, then click here.
And now let's see what the Pros of this tool are.
SEMRUSH is easy to use with a clean user interface. Nevertheless, it may take some time for you to acclimatize yourself with the interface, especially if you're migrating from tools like Moz or SpyFu. Plus, it's loaded with features, so it can be a bit overwhelming at times.
SEMRUSH provides best support mainly through their comprehensive knowledge base and email. They also organize webinars on a regular basis where they unveil new features and provide some actionable tips to improve your SEO and PPC.
The site audit functionality in SEMRUSH helps you do a diagnostic check of your website in order to identify and fix the most troubling on-page SEO and technical SEO issues with your site.
The Keyword Overview in SEMRUSH provides a quick summary of your target keywords' monthly search volume, keyword difficulty, and other important keyword metrics.
Moreover, the Keyword Magic Tool in SEMRUSH allows to generate a ton of unique keyword ideas for your seed keywords.
Identifying your organic competitors is one of the chief elements involved in dominating search results. To identify your organic competitors, you can simply enter your domain name in the SEMRUSH search bar, and then select "Organic Research" from the drop-down menu.
But are there cons?
Well, even the best marketing tools have limitations, and SEMRUSH is no different.
The backlink data is not that much great, as sometimes it misses out some backlinks.
Verdict
So, should you use SEMRUSH to improve your website visibility? Well, once you start using SEMRUSH, it's easy to see why it's trusted by so many industry experts and influencers.
The team behind SEMRUSH constantly introduces new and exciting ways to do keyword research and competition analysis, making it one of the most premium tools in the SEO software industry.
The company has taken off the beta tag for many of its most innovative features and offers just about everything besides keyword management that a business needs to spearhead its SEO strategy.
The lead generation, SEO Ideas, and Keyword Magic features in particular could be a huge boon and help SEMRUSH better connect SEO directly to sales and marketing ones.
So, have you ever tried it, or would you like to test it?
Remember that you can try this tool directly by clicking here to get exclusive benefits.
Let me know in the comments what you think and if you have any doubts or questions write to me and I'll get back to you soon.
See you in the next article!