What are ERP Systems?
Enterprise resource planning (ERP) systems are comprehensive, integrated systems that manage all aspects of a manufacturing or distribution-based business, bringing together financial management, human resources, supply chain management, and manufacturing or distribution with the core accounting function.
These comprehensive systems serve as a central point for the whole workflow and data. ERP systems' information may be viewed by various departments to ensure that proper procedures are followed.
ERPs are used by manufacturing and distribution companies.
ERP systems, on the other hand, integrate all business processes from start to finish. In place of using separate solutions (which may not work together) in each department, ERP systems provide integration from beginning to end of all business operations.
Businesses that use ERP systems can benefit from them because they assist in the growth and development of their companies. On their own, ERP systems may provide a wide range of services; however, they may also be linked with CRM software and PSA software solutions.
Hi, my name is Jason and today we're going to go through the list of the 10 BEST PROJECT-BASED ERP SYSTEMS THAT YOU CAN USE FOR YOUR BUSINESS.
On my website, you will find many articles that will help you find the best tools for your business!
Let's get started!
ERP systems include multiple modules, and although each business has specific requirements, most ERP systems include the following features:
Functions such as the general ledger, accounts payable/receivable, balance sheet, and treasury management are just a few examples;
HR departments, such as recruitment and payroll, or integration with HR and payroll solutions;
Sales and customer management functions or integration with CRM solutions;
Functions for preparing various sorts of quotations, sales orders, and returns are included.;
Purchase and order management workflows;
Picking, packing, and shipping are all handled by inventory and warehouse management software.;
Advanced supply chain modules, such as demand planning and transport management for distribution companies;
Manufacturers use manufacturing modules to manage product development, including bill of materials (BOM), production resource planning (MRP), and quality management processes.;
Reporting and analysis for all modules included in the ERP solution.
Let's see my Top 10 together.
NetSuite

NetSuite provides a suite of cloud-based applications including finance / Enterprise Resource Planning (ERP), HR, professional services automation and omnichannel commerce.
It is used by more than 27,000 customers in over 200 countries.
Click here for more information and to try it out with exclusive benefits.
SAP Business One

Optimise key processes, gain greater insight into your business and make decisions based on real-time information, so you can drive profitable growth with SAP Business One.
Reduce expenses, including financials, purchasing, inventory, sales, and customer service. Reduce the cost of running your company in all areas: project management, operations, and human resources.
Capture critical information for instant access and use it throughout your business.
SAP Business One will give you a single view of your business in an instant with a flexible, modular, powerful and simple interface.
Click here for more information and to try it out with exclusive benefits.
SAP S/4HANA
SAP S/4HANA is an intelligent ERP system designed to help you run today's business and seize tomorrow's opportunities.
SAP S/4HANA was created with in-memory computing in mind and is designed to help your whole business make better decisions faster. Real-time insight at the point of action allows you to make more informed decisions faster.

With machine learning built into core business processes, SAP S/4HANA helps automate routine tasks, freeing employees to focus on higher-value, strategic activities.
Available in the cloud, on-premises or in a hybrid environment.
Click here for more information and to try it out with exclusive benefits.
Sage Intacct
Gain real-time financial and operational insights into your company.

Ensure organizational security and compliance by using comprehensive financial controls.
Reduce labor and expenses by automating complex processes.
Sage Intacct is a cloud-based accounting system that includes applications for accounting, cash management, purchasing, vendor management, financial consolidation, revenue recognition, subscription billing, contract administration, project accounting and fund accounting.
Click here for more information and to try it out with exclusive benefits.
SAP
With SAP's ERP, you can sharpen your competitive edge and grow your business.

SAP ERP software is a proven and reliable foundation designed to help the world's largest businesses as well as small and medium-sized enterprises in 25 different sectors. With over 40 years of expertise and nearly 50,000 clients, it's a proven and dependable platform for supporting large organizations and little and medium-sized companies in 25 distinct industries.
Make use of role-based access to critical data, applications, and analytical tools to improve your procurement, production, service, sales, finance, and HR processes.
Click here for more information and to try it out with exclusive benefits.
Acumatica
Acumatica Cloud ERP is the most comprehensive business management system for digitally resilient enterprises.

Built for mobile and telecommuting scenarios and easily integrated with the collaboration tools of your choice.
Acumatica gives small and medium-sized firms flexibility, efficiency, and business continuity.
Click here for more information and to try it out with exclusive benefits.
Tally

TallyPrime is a software that is intuitively built for various business operations. They've covered everything, so you don't have to worry about gimmicks; instead, appreciate the fact that the program was created specifically for you!
Click here for more information and to try it out with exclusive benefits.
Odoo ERP
Odoo is a fully customizable, open-source software package with hundreds of expert-designed company solutions.
Odoo's powerful internal database can handle almost every company requirement, including customer relationship management (CRM), sales, projects, manufacturing, inventory and accounting. To name a few.

Odoo is a complete software package that may be used by organizations of all sizes.
Each module is linked to provide a complete integrated experience from one application to the next, and users may perform numerous operations automatically using across applications.
Teams can collaborate from a single platform in the most efficient way possible, thanks to Odoo's integration of all business functions.
The Odoo marketplace offers a wide range of specialized modules and applications that are suited to all commercial demands.
Click here for more information and to try it out with exclusive benefits.
SAP ByD
SAP Business ByDesign (ByD) is a cloud-based business enterprise resource planning software from SAP SE that is offered and managed as software as a service.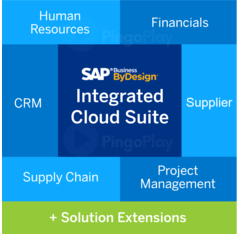 The system is designed to synchronize business operations in all application areas, such as finance and human resources, with built-in business analytics, mobility, e-learning, and support.
The principles of a service-oriented architecture (SOA) are used in SAP Business ByDesign.
The technology underpinning it is based on SAP HANA's in-memory database.
A complete set of pre-packaged integrations and SOAP and oData webservices ensures easy integration with other SAP or non-SAP applications, such as Financial Management (FIN), Customer Relationship Management (CRM), Project Management (PRO) and many others.
ByDesign is distributed in 144 countries and supports 12 languages.
Based on a base package, user types, and the number of users, SAP Business ByDesign is offered for a monthly SaaS subscription.
Click here for more information and to try it out with exclusive benefits.
Oracle PeopleSoft
Oracle offers the only fully open and vendor-neutral cloud infrastructure for migrating PeopleSoft, its linked database systems, and business software applications.

With only PeopleSoft Cloud Manager accessible to Customers who are utilizing Oracle Cloud, you'll be able to automate cloud migration and lifecycle management procedures.
Click here for more information and to try it out with exclusive benefits.
What are your thoughts on this TOP 10 list? Have you ever used any of them? Do you know of any others that could be useful to your business?
In the comments, tell me what you think!
You'll find lots of articles to help you manage and organise your business!
See you in the next article!