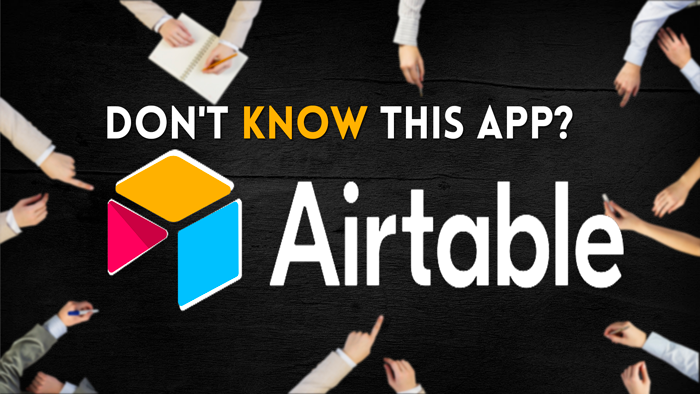 Hello and welcome to my website!
Do you know what Airtable is? Well, if you don't – this article is for you!
Today, I present you with Airtable, a tool that helps you better organize your work and services.
By reading this article, you will discover:
– What is Airtable?
– Its main features and what it can help you accomplish.
– Its pros and cons
Hi, my name is Jason, and on my site, you will find many articles that will help you discover the best tools to grow your business.
So, without further ado, let's get started!
Airtable is a new technology that offers a new approach to database management. It enables the user to design a database without any knowledge of code whatsoever. If you are not yet acquainted with Airtable, look no further and find out what you have been missing!
Airtable is an intuitive platform for data analytics that makes it easy for anyone to create tables, link them together, update records in real-time, and share their work with others – all without writing any code. It's never been easier or faster to do powerful analysis on your data than now.
So if you're still using spreadsheets or Access databases because they seem more familiar–or even just because they don't require learning anything new–you may be stuck in the past and missing out on a more productive way to work.
Airtable is extremely versatile: you can paste just about any sort of data into its interface and create whatever kind of table you want, with as many columns as needed. It also works seamlessly with third-party apps like Google Sheets or Zapier so your information stays up to date and you can save time on data entry.
Airtable is a mobile-friendly platform that works across all devices, so it's easy to access information on the go. Plus, your data will be synced automatically as soon as you make any changes to it, creating an up-to-date record of everything. It gives you a single source of truth that everyone in your organization can use to collaborate and work together.
Airtable's main features and what it can help you achieve
Here are some of Airtable's main features and how it can help you accomplish those tasks:
– Database creation without coding. You can create an unlimited number of databases to store whatever information you need them to. Whether you're tracking a product inventory, a list of contacts, a set of projects or just about anything else–Airtable can help you keep it organized.
– Easily connects with third-party tools. Airtable works seamlessly with a number of apps, including Google Sheets and Zapier, so your data is always up to date and you don't have to retype information that has been entered elsewhere into the database.
– Accessible anywhere. With Airtable, you have access to all of your information on any device. Whether you're at home or in the office, on your laptop or tablet, updating records is just a matter of logging into the platform and getting started.
– Collaborate with other users. You can invite anyone to view or edit data within an Airtable database, giving your team members and coworkers full visibility into all of the records stored within.
– Keep track of updates and changes whenever they're made. When you and another user update a record simultaneously, Airtable will keep track of all changes so you always have an up-to-date version to work from.
Airtable is a versatile platform that anyone can use to store and manage all sorts of information. Whether it's their own personal records or those of an entire organization, Airtable users will always have the most current and accurate version available to them at all times.
Airtable is so easy to set up and use that you might not need any other database management software. With Airtable, you can access your information from anywhere on any device, and share it instantly with anyone in real-time.
What are some of the most common uses for Airtable?
Some of the most common uses for Airtable include:
– Tracking Sales Opportunities
– Managing Marketing Campaigns
– Keeping Track of Proposals and Contracts
– Tracking Product Inventory
– Managing a Customer Relationship Database
Airtable can help you accomplish all of these tasks and more. Whether it's your own personal records or those of an entire organization, Airtable makes it easy to keep everything stored in one place for quick and easy access.
How it can help your business?
Airtable can be used by any company that has more than one person contributing to the same project. Whether you're a start-up business with just a handful of employees or a large corporation, Airtable will help your team collaborate seamlessly and work towards the common goal of accomplishing what needs to get done.
Pros of Airtable:
Here are some of the main benefits of Airtable:
– Easy to set up and use. Unlike database management software, there's no coding or programming required to build an Airtable base. It's as simple as using a spreadsheet, which many users will already be familiar with.
– Collaboration is easy. Because multiple people can work on a base simultaneously, collaboration is efficient and easy to implement.
– Keeps track of all updates and changes in real-time. Airtable works like an intranet: with each update or change that takes place, whether it's by one person or many, the platform automatically saves all changes for everyone to see.
– Accessible anywhere. You can access your Airtable bases from any device, including smartphones and tablets, so you will always have the information you need at your fingertips.
Cons of Airtable:
Here are the main drawbacks to using Airtable as a database management platform:
– Lacks certain enterprise-level features. Some companies may need a tool with more customizable features, such as branding capabilities and key performance indicators. Airtable does not offer this option for an enterprise version yet.
Airtable provides a simple and efficient solution to all of your database management needs. Create an account today and learn how you can use it to work more efficiently with the people around you!
Remember that you can try Airtable directly by clicking here for exclusive benefits.
Let me know in the comments what you think and if you have any doubts or questions write to me and I'll get back to you soon.
See you in the next article!