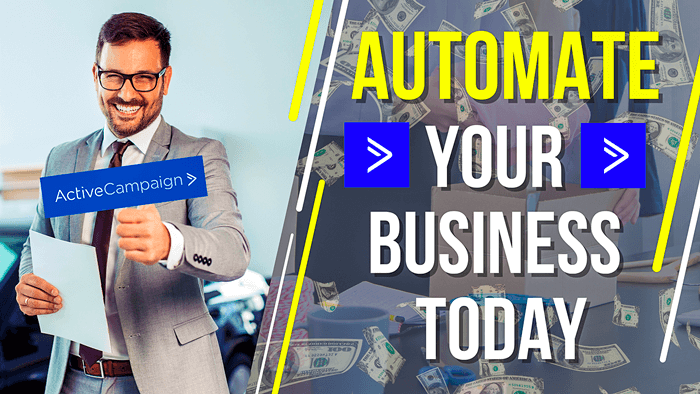 It's tough to keep up with all of the interactions you need to have with your customers to keep them happy and engaged.
Juggling customer communications can be a lot of work, and it's easy to let some things fall through the cracks.
Active Campaign automates the process for you. Today, I present you with the following topics:
Why should you use Active Campaign?
Features of Active Campaign
Pros and Cons of Active Campaign
Hi, my name is Jason, and on my website, you will find many articles that will help you discover the best tools to grow your business.
What is an Active Campaign?
Active Campaign is a marketing automation platform that allows you to send automated emails, create custom workflows, and track the results of your marketing efforts. It's an excellent tool for small businesses that want to take their marketing efforts to the next level.
Active Campaign is one of the most popular marketing automation platforms on the market. It's easy to use, has many features, and is affordable for small businesses. If you're looking for a way to automate your email marketing and track the results, then Active Campaign is definitely worth checking out.
Why should you use Active Campaign?
Active Campaign is a great email marketing tool because it offers an automation feature to create complex workflows.
For example, let's say you want to send an automated email to new subscribers on day seven after they sign up and follow up with a reminder email on day 14. Active Campaign makes this possible with its easy-to-use visual builder. You can also set up triggers based on user behavior, such as opens, clicks, or downloads.
Plus, ActiveCampaign integrates with over 1,000 other apps, so you can easily add powerful features like lead capture forms, CRM data, and more to your marketing campaigns.
Features of Active Campaign:
Here are some of the features that Active Campaign offers, which you can use to automate your customer's experiences:
Email Automation:
As the name suggests, this feature allows you to automate your emails. It's possible to send targeted messages based on user behavior, such as opening an email or clicking on a link inside it. You can also set up triggers for when your users take specific actions and manage workflows across multiple contacts, which you can use to send personalized messages and track the results of your marketing efforts.
Lead capture:
With Lead Capture, you can create forms that your visitors can use to subscribe to your newsletters or get access to certain information. You can also configure the forms to capture more detailed information like the user's job title, company name, and address. This is helpful for lead generation since it will help you build lead profiles in a few clicks using ActiveCampaign's lead scoring feature.
CRM information:
Integrate the contact data from your favorite CRM solution to save time and increase productivity. You can also use ActiveCampaign's powerful filtering rules to manage prospects based on their stage in the buyer journey or specific attributes you're looking for.
Customer journey:
This tool will help you create a new experience for each customer by managing their engagement over time. You can set up automated emails that will be sent on specific dates, add tags to contacts depending on what they do or don't do when they visit your site and set up triggers that determine what emails are sent next.
Offline mode:
With this feature, you'll be able to plan campaigns ahead of time without having to connect ActiveCampaign with your website to capture new leads. You can quickly create messages and design email templates using the visual builder, then schedule them for delivery when you're back online.
Custom fields:
You can collect unlimited contact data by creating custom fields for your ActiveCampaign account with this feature. It's a great way to save information that may be important to your business, such as what services you offer, how much they cost or any other details that might come in handy later on.
Lead scoring:
This feature uses a scoring system to rank your leads based on important behaviors for your business. You can then use the score in triggers, so you're only notified when your top-scoring contacts take specific actions, such as opening an email or clicking on a link. The score ranges from 1-100 and is meant to be used to boost the performance of your lower-scoring contacts over time.
Pros of Active Campaign
There are a lot of pros to Active Campaign:
It's a user-friendly platform, and it's easy to create beautiful Automation.
The pricing is very affordable, especially if you're a small business.
You have the ability to use tags and groups to target specific people, which makes communication much more personalized.
The customer service is excellent.
Cons of Active Campaign
There are also a few cons:
The automation builder can be difficult for beginners to understand at first. But with a little bit of time invested, you can learn how to create really complex automations.
Since it's such an affordable platform, the customer service isn't 24/7 like it is with other platforms.
Final Thoughts on Active Campaign
As you can see, there are a lot of cool features included with ActiveCampaign's Marketing Automation system. After using the platform for several months now, I think they offer excellent value, and I would definitely recommend them to any business owner.
That's all you need to know about Marketing Automation with ActiveCampaign!
So what are you waiting for? Go ahead and try Active Campaign to Maximize Automation!
Remember that you can try this tool directly by clicking here for exclusive benefits.
Let me know in the comments what you think and if you have any doubts or questions write to me and I'll get back to you soon.
See you in the next article!