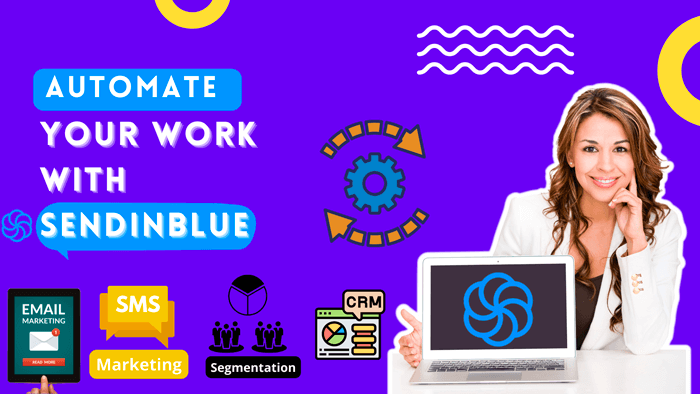 Hello and welcome to my website!
Do you want to automate your work? This article is definitely for you!
Today, I introduce you to SendinBlue, which is an email marketing platform that will help you manage your work automatically.
By reading this article, you will discover:
What is SendinBlue
What are the benefits of using SendinBlue
How do you automate your work with SendinBlue
Hi, my name is Jason, and on my website, you will find many articles that will help you discover the best tools to grow your business.
So without further ado, let's get start.
First of all, What is SendinBlue?
SendinBlue is a marketing automation platform that helps business owners and marketers to send email campaigns, SMS messages, and other automated marketing content. It's a great tool for automating your work and saving time.
One of the best things about SendinBlue is that it's easy to use. You can create beautiful email campaigns in minutes, and there are lots of templates to choose from. You can also track the results of your campaigns so you can see how they're performing.  If you've never used a marketing automation before, SendinBlue is a great place to start.
What can I do with SendinBlue?
SendinBlue provides:
– Easy and beautiful email campaigns. Create and send newsletters in minutes with customizable templates. Track your results.
– Automation for collecting leads from your website or from social media.
– SMS campaigns to engage with your users and customers. Personalize your messages by adding dynamic content from your CRM or web analytics tools.
– Automated transactional emails, triggered by specific events. SendinBlue can send you an alert when there's a new sale in Shopify, for example.
How does SendinBlue work?
SendinBlue has everything you need to send beautiful, personalized emails. It organizes all your contacts in one place, includes unlimited email campaigns and allows you to use variables for personalizing your messages. You can also track the results of your campaigns so you know how they're performing.
Benefits of using sendinblue
There are many benefits of using SendinBlue, which is why it's one of the most popular email marketing platforms today. Some of the key benefits include:
1) Easy to use: SendinBlue is very easy to use, so you can start creating and sending beautiful emails within minutes.
2) Automated emails: Automated emails are a great way to nurture your leads and keep them engaged with your brand. With SendinBlue, you can easily create automated email sequences that will help you convert more leads into customers.
3) Powerful segmentation tools: Segmenting your email list is a great way to ensure that each email you send is relevant to your recipients. SendinBlue's powerful segmentation tools allow you to target your subscribers based on location, behavior, interests and more.
4) Live chat: SendinBlue has a live chat feature that lets your customers reach out to you even when you are not available. You can also use the live chat feature to talk to your leads in real time during webinars, conferences or other events.
5) Mobile-friendly: SendinBlue is fully compatible with all mobile devices, so your subscribers can easily read and interact with your emails no matter where they are.
6) Email templates: All of SendinBlue's email templates are responsive, which means you don't need to worry about having a mobile strategy for your email marketing.
7) Statistics: Your email marketing efforts should always be backed by data, which is why SendinBlue provides a comprehensive set of reports that help you understand your conversion rates and other metrics.
8) Reporting: Another great thing about the SendinBlue platform is how simple it is to create beautiful marketing reports that can be easily shared with your team.
9) Internationalization: SendinBlue is available in more than 30 languages, so you can easily communicate with your customers regardless of where they are.
10) Build mobile apps: You can also use SendinBlue to build mobile apps for your business. These apps will allow your subscribers to manage their email subscriptions directly from their mobile devices.
How to use sendinblue?
When you start using SendinBlue, the first thing that you should do is create a list of all your subscribers. You can import them from a spreadsheet or just add them one by one.
Once you have your subscriber list up and running, it's time to start creating beautiful emails. You can use templates that are available in the platform, or you can customize your messages from scratch.
SendinBlue also has a powerful segmentation feature that allows you to target your subscribers based on their location, interests and more.
You can use SendinBlue to send transactional emails related to specific events in your business. For example, you could send an automated email when someone makes a purchase in your online store or when someone subscribes to your email list.
How is SendinBlue different from other email marketing platforms?
SendinBlue is a great choice for businesses of all sizes regardless of whether they're just starting out or have been around for decades. The platform lets you create emails and send them to up to 10,000 contacts per month completely free.
With SendinBlue, you can also create mobile apps for your leads and automate workflows that will boost sales. The platform offers a comprehensive set of reports that provide you with in-depth analytics so you can measure the performance of every campaign.
All you need to do is create a free account and get started. You can also check out some of the other features on the SendinBlue website, including email templates, sign-up forms and more. With free plans, SendinBlue offers one of the most affordable email marketing solutions available today.
If you're looking for an email marketing platform that will help you grow your business quickly, SendinBlue is one of the best choices available.
You can try it out by clicking here.
So what are you waiting for? Get started with SendinBlue today!
Let me know in the comments what you think and if you have any doubts or questions write to me and I'll get back to you soon.
See you in the next article!