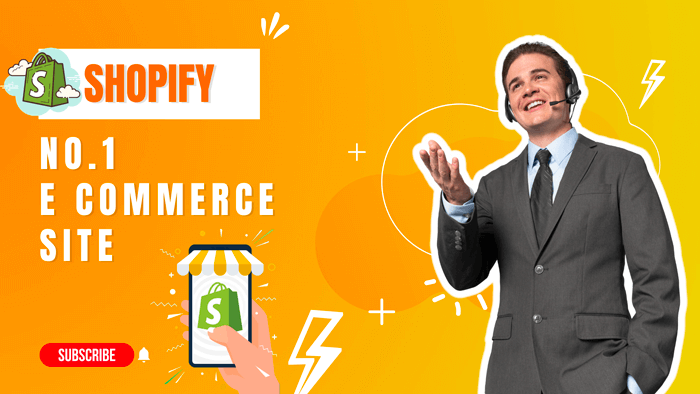 Hello and welcome to my website!
Do you know the easiest way to set up your own online eCommerce store?
Today I present to you SHOPIFY! An ecommerce platform that is used to build your own store both online and offline!

By reading this article, you will discover:
What is SHOPIFY?
What are its features?
What are the pros?
What are the cons?
Verdict
Hi, my name is Jason and, on my site, you will find many articles that will help you discover the best tools for your business to grow your business.
Let's get started!
First, let's talk about what is SHOPIFY
Shopify is a Software as a Service solution that businesses use to open online eCommerce stores.
Unlike Blogger and WordPress, Shopify particularly Builds, Hosts, Operates and Manages websites related to the eCommerce industry.
It is the world's most widespread multi-channel Content Management System, mainly used by small and medium-sized businesses across the globe.
Shopify has over one million clients spread across more than 175 countries.
Many industry-leading companies, including Hyatt Hotel Corp, FitBit, Penguin Books, RedBull, use Shopify to meet their eCommerce needs.
Shopify eradicates the need for installing any website servers as it is a Cloud-based service. Users can enjoy the benefits of Shopify at ease as the software gets automatically updated with the addition of new features.
Ottawa-based SaaS providing company Shopify was founded by Scott Lake, Daniel Weinand, and Tobias Lutke in 2004.
The firm has raised over $122 million over four funding rounds from investors like OMERS Ventures, Insight Partners, and many more.
Shopify has acquired twelve companies, including Return Magic, Oberlo, Handshake, Boultmade, and several more.
It offers numerous tools that cater to all online store requirements, such as Customer Engagement, Marketing, Sales, Shipping, Payment, and many more.
Shopify also provides a 15-days free trial period to users for them to better understand the platform. Users get access to thousands of pre-built templates that can be used to design customized websites depending on the niche.
According to Shopify, users witnessed an average annual growth rate of around 30 percent while using this subscription-based platform to run their businesses.
Moreover, Shopify allows Marketing across multiple Sales channels that helps companies to reach a larger audience resulting in higher visibility and increased sales figures.
Now, let's talk about what are the features of SHOPIFY?
In order to grow an online business, companies must understand the capabilities of their Content Management Systems.
Shopify provides various features to its customers that help them build aesthetic-looking eCommerce websites and enables them to keep track of the performance of their business.
It also comes with many analytics tools to aid users in making informed business decisions for boosting Sales, and at the same time, increases the Efficiency of Websites.
Shopify offers a feature named Point of Sale that enables companies to sell their products in the real world.
Such as, companies can open physical pop-up stores to sell their products offline and accept payments from buyers using a card reader. The payments are directly linked to the company's Shopify inventory that also maintains a record of every sales transaction.
Shopify offers support for multiple third-party application integrations to help users effectively optimize their websites.
For instance, Smart SEO is an application available on Shopify App Store that provides many features like automated metadata input, offering structured data to various search engines, including Google, multi-language support, and many more.
Another application named Booster Image and SEO Optimizer can be used to increase traffic from google image search. The app automatically optimizes Meta Tags, Alt Text, Site Maps, JSON-LD, etc.
Shopify offers multiple applications that help businesses connect to thousands of wholesale suppliers across the globe.
One such application is Oberlo, with which companies can directly import products from AliExpress and list them on their Shopify online store. Hence, businesses need not worry about product storage space for items listed on their websites.
If you want to try this tool or just have a look, click here.
And now let's see what the Pros of this tool are.
Well, Shopify being the world's most popular Content Management System for eCommerce businesses offers numerous advantages to its users over other platforms.
Online stores built and managed by Shopify are highly reliable as the company provides 256-bits SSL Certification to every website and is Level-1 PCI Compliant. These security parameters ensure the complete safety of sensitive customer information, including Credit Card Details, Phone Numbers, Email IDs, Home Addresses, etc.
Added security features lead to increased brand value and customer loyalty. This is one of the key benefits of Shopify as businesses can operate in a secure digital environment.
As Shopify is a Cloud-based service, users can enjoy the benefit of the world-class infrastructure maintained by Shopify.
The company's robust and optimized hardware gives Shopify a super-fast loading speed that enables websites designed on Shopify to load in a few seconds.
Shopify runs its own app store where users can choose from thousands of applications to add new features to their eCommerce store.
The app store features plug-and-play applications that cater to varied needs of customers like Website Customization, Improving Search Engine Optimization, Adding Analytics capabilities, and more.
Shopify App Store enables the content management system to be lightweight and provides desired features to its customers.
Some of the most popular apps available on the Shopify store are OptinMaster, ReferralCandy, Printful, Smart SEO, and Plugin SEO.
Furthermore, Shopify comes with a very easy-to-use user interface that allows its customers to understand the platform's functionalities in a short time.
Shopify has equipped its platform with multiple drag-and-drop features that enable customers with no coding knowledge to run their online stores effectively.
One of the key benefits of Shopify is that it is very easy to set up. Customers can choose Shopify as their CMS if they are willing to open an online eCommerce in a brief notice.
But are there cons?
Well, even the best software tools have limitations, and this is no different.
Shopify's key functionality that you might expect to be provided out of the box often requires installation of an app, this can sometimes make store setup slightly more complicated than you might like or slow your site down a little.
Verdict
So, should you use SHOPIFY to run your own online store? Well, SHOPIFY has packed its CMS platform with several dynamic and useful features to help users create and manage their online eCommerce websites.
Its high-end security features, insightful analytics, a vast range of third-party integrations, and user-friendly interface make it one of the best choices in the market.
Customers who wish to take their business online can easily opt for Shopify because of the significant benefits of Shopify that give it an edge over its competition.
So, have you ever tried it, or would you like to test it?
Remember that you can try this tool and get exclusive benefits by clicking here.
Let me know in the comments what you think and if you have any doubts or questions write to me and I'll get back to you soon.
See you in the next article!