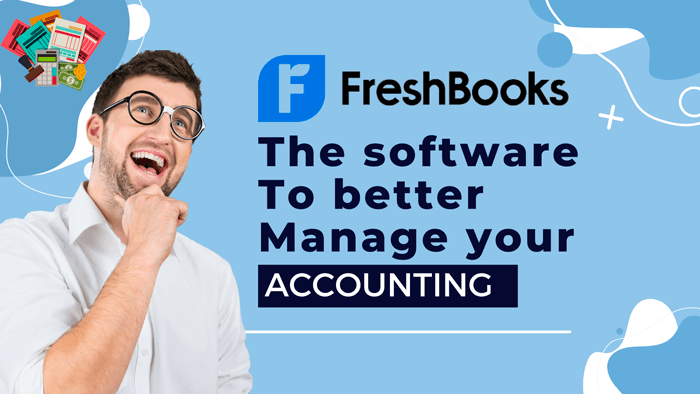 Hello and welcome to my website!
Do you know the easiest way to create professional invoices in seconds?
Today I present to you FRESHBOOKS! A cloud-based accounting program that offers a robust set of accounting features!
By reading this article, you will discover:
What is FRESHBOOKS?
What are its features?
What are the pros?
What are the cons?
Verdict
Hi, my name is Jason, and on my site, you will find many articles that will help you discover the best tools to grow your business.
Let's get started!
First, let's talk about what is FRESHBOOKS?
FreshBooks is an ideal choice for small businesses, freelancers, and people who want to focus on expenses and receipt management.
Entrepreneurs can benefit from clean invoicing, automated reports, and time tracking features. It will save you on bookkeeping costs, and an intuitive interface will make it easy to track all financial transactions.
It was one of the first accounting software to offer the service entirely cloud based.
The FreshBooks app is the best invoicing app designed for small business owners. It is the fastest way to invoice clients, track time, and run your small business in the cloud.
You also have an option to invite an employee or contractor, such as your accountant, to look at your financials and help you prepare your taxes.
Users can choose between several subscription plans. The FreshBooks plans is based on active clients as opposed to the features. Thus, you can have all the elements regardless of what your subscription is.
Now, let's talk about what are the features of FRESHBOOKS?
FreshBooks helps you create, send and manage invoices efficiently. Creating invoices is easy with FreshBooks.
The invoice screen shows you exactly how your documents will appear when you send them, so you don't have to click a preview button to make sure they look right.
You can click on the applicable fields to add new customers, products or services, descriptions, terms, and notes, you don't have to create them on a separate screen and then add them to an invoice. If you want to rearrange lines on an invoice, you can drag and drop them into place.
When you set up FreshBooks Payments or connect your Stripe account and send invoices to clients electronically, you can accept credit card payments through the system, allowing your clients to pay online by clicking a payment button on the invoice.
Each invoice records shows how much your client paid and whether there are any outstanding balances, so you don't have to manually track this information.
For bigger jobs, you may want to create a formal project proposal or job estimate. While an estimate is simply a breakdown of the services you will provide along with an estimate of their cost, a proposal is a more formal document that displays the value of the services you provide. When an estimate is approved by your client, you can easily convert it into an invoice with a few clicks.
FreshBooks can serve as the hub for your projects. After inviting contributors, clients, and employees to projects, you can share files and notes and set deadlines.
Your contributors and employees can track their time, allowing you to easily monitor the hours spent on a project. You can also bill clients for hours tracked and expenses incurred on their projects.
Using the time-tracking option, you can easily log your time for any job, or start a timer to record the time automatically.
The mobile app lets you record your time when you're working at another location, and you can even add a note to remind yourself of what you were working on, which can be helpful if you have multiple clients.
If you want to try this tool or just have a look, click here.
And now let's see what the Pros of FRESHBOOKS are.
The right accounting software can make all the difference between a small business that runs and a small business that thrives. FreshBooks bookkeeping software is an excellent tool for forecasting and budgeting. It offers time tracking, invoices, and expense tracking.
You can create professional-looking invoices in no time. FreshBooks also gives your clients an option to pay with a credit card in just a few clicks. You can also set up pre-written emails to follow up with clients who are late in paying.
Additionally, you can automatically synchronize bank account and credit card information with your accounting.
With FreshBooks, you can send invoices and charge a client's credit card regularly through setting up a recurring invoice template in your account. This is a handy feature if you are selling products like subscriptions or if the customer's invoices are the same every month.
Moreover, you can use FreshBooks on multiple platforms. FreshBooks Cloud accounting software enables you to tackle your accounting anywhere. The data will automatically sync across all of your devices so that you can switch between devices, and the information will still be there.
This company has excellent customer experience, a great resources page, and webinars. You can contact FreshBooks customer service 24/7 and 365 days a year. You can contact FreshBooks support by phone, email, live chat, or use the knowledge base. Their customer representatives are amicable and helpful in resolving issues.
But are there cons?
Well, even the best accounting software have limitations, and FRESHBOOKS is no different.
Unfortunately, you can't view reports or manage team members from the app. While you could use the browser on your phone or tablet to access your FreshBooks account to do this, but it's a bit inconvenient if you're on the go.
Verdict
So, should you use FRESHBOOKS to manage your accounting efficiently? Well, FRESHBOOKS is designed with the user in mind, and that's evident as you make your way through the various features and functions.
FreshBooks has also been incredibly responsive to complaints about the lack of true accounting features by adding double-entry accounting and beefing up the reporting options.
If you're looking for easy invoice creation, good expense management, and time-tracking capability, then this is the best option, as the faster you invoice, the faster you get paid.
FreshBooks can run on just about any web browser, including Google Chrome, Firefox, Internet Explorer, Microsoft Edge, Opera, Safari, Mobile Safari, and Mobile Chrome.
Mobile apps are available for both iOS and Android devices, and the product remains in sync, so you can use your desktop system in the morning and your iPhone while you're out in the afternoon, and the information will remain consistent in both.
So, have you ever tried it, or would you like to test it?
Click here and you will have exclusive advantages.
Let me know in the comments what you think and if you have any doubts or questions write to me and I'll get back to you soon.
See you in the next article!