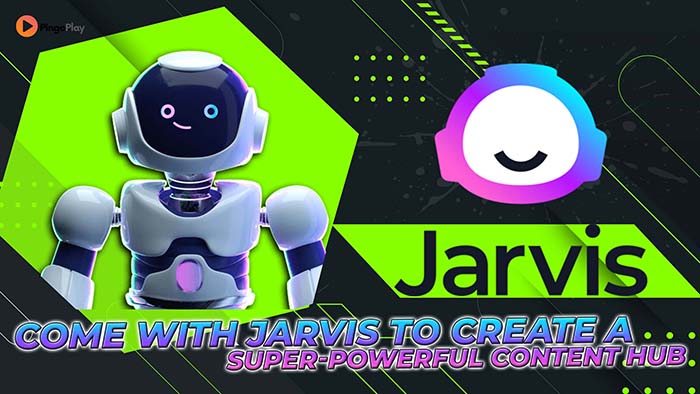 In this article I take you through the Jarvis Experience, so you can decide if it's worth adding to your arsenal of tools.
By watching this video you will discover:
What is Jarvis
How Jarvis works and what it can be used for
What are the pros of Jarvis
What are the cons of Jarvis
Hi, my name is Jason and on my article, you will find many videos that will help you discover the best tools to grow your business.
In the description, you'll also find links to the tools we'll be discussing in the video with exclusive bonuses to try them out.
Let's get started!
What is Jarvis?
Artificial intelligence trained to generate original and creative content.
The world's top SEO and Direct Response Marketing experts have taught Jarvis how to write blog articles, social media posts, website copy and more.
Previously known as Conversion AI, Jarvis AI uses GPT-3 technology (Generative Pre-trained Transformer – 3) to create a unique and persuasive copy in minutes based on what it learns from your keyword and data provided to it.
This innovation uses Natural Language Generation to transform computerised information into persuasive stories.
Jarvis AI is used by around 40,000 customers and is rated at 4.9/5 out of over 1000 customers included in this statistic.
How Jarvis works and what it can be used for
Jarvis AI can be used for multiple functions that will help your company to simplify and speed up its daily work.
Jarvis AI is perfect for marketers, business owners or newbies who want to create high-quality blog posts without hiring a copywriter on board.
You can create truly impressive content in minutes.
Let's discover the main functions of Jarvis together.
Without using templates, you can instruct Jarvis to do literally anything by simply entering the command and pressing CTRL/CMD + ENTER.
Note that after generating what you're looking for with the commands, simply use the normal CTL + J or Jarvis compose button and Jarvis will continue the format initiated by your commands.
The long-form assistant, an easy-to-use tool that allows even more functions.
With the long-form editor, you can generate long-form copy and SEO blog posts by using CTRL + J to generate the copy or CTRL + ENTER to execute Jarvis' commands.
Jarvis has managed to keep it super simple and clean, and it's much faster than when using other AI content generators.
3) 40+ powerful templates.
Some of the notable templates I use frequently are:
(a) Copywriting-frameworks templates
AIDA: which stands for Attention, Interest, Desire and Action. You can use it to write short sales texts, social media promotions, ads etc.
Other popular copywriting models based on frameworks on Jarvis include Problem- Agitate- Solution (PAS), Before- After- Bridge, Feature to Benefits, etc.
(b) Brainstorming templates
These templates help you brainstorm ideas when you are stuck, or when you are just looking for a different approach to a particular message.
Jarvis templates suitable for brainstorming needs include, for example:
Blog topic ideas
Ridiculous marketing ideas
Video topic ideas
Product or company name generator
Perfect title
Blog outline
and more.
c) Jarvis SEO templates
Examples include:
Pinterest pin descriptions for Pinterest SEO
SEO – Blog Posts – Title and Meta Descriptions
SEO – Homepage – Title and Meta Descriptions
SEO – Product Page – Title and Meta Descriptions
SEO – Services Page – Title and Meta Descriptions
d) Web Content Templates
Use this template to enhance your copy or content. You can easily expand a few lines into several paragraphs with ease.
There are other powerful templates that the Jarvis AI team has built to help you easily create content for your website:
Persuasive bullet points
Company biography
Blog post section templates (intro, outline, conclusion, etc.)
Perfect subtitles for the website
e) Templates for social media
Social media marketing is a powerful strategy that can work wonders if done well. However, managing social media alone is not easy because it involves creating and scheduling tons of content.
With Jarvis, you can now literally create a year's worth of social content in a weekend.
Use this template also to create highly engaging stories for your social media audience.
4) Growing community of 41K Jarvis users.
Jarvis AI is an AI writing company with the largest and fastest growing community on Facebook of around 41,000 active members sharing tips and tricks on how to use the tool.
Anyone can join the group. You don't have to be a Jarvis user to join.
What I like about this community is the selfless sharing of good, actionable advice.
5) Jarvis recipes
Content creation involves a number of steps. For example, when you write an article, your process will look like this:
Write the SEO title
Write an introduction
Write a blog outline
Writing the content of the section based on the outline
Writing the conclusion of the blog
Of course, you have processes for content research, editing and formatting, but Jarvis' recipes are only for content writing.
Now, we can use Jarvis' commands to generate content based on the steps above, but having to write a command every time can be tiring, especially when you're following the same steps when writing particular types of content.
This is where recipes come in. You can convert your processes into recipes and click to execute them. In your dashboard, you have predefined Jarvis recipes that you can run, or you have access to community recipes created by other super-users like you, or even create your own.
6) Powerful integrations
Jarvis integrates with some of the most popular writing and proofreading tools to make your content production faster and more seamless.
Grammarly: Jarvis now has an integrated grammar checker powered by Grammarly. You no longer need to use browser extensions or transfer your content to Google docs to use it.
Copyscape: With Jarvis, you now have access to the world's best integrated plagiarism detection tool. You can also enjoy a 20% discount on Copyscape credits when you add credits through the Jarvis dashboard.
Surfer SEO: Writing comprehensive content optimised for on-page SEO is a must if you want to rank for your target keywords. Surfer makes it possible. If you are a Surfer user, then you can optimise your content directly from the Jarvis document editor without having to copy and paste it into the Surfer editor.
Want to try Jarvis? Click on the link in the description and find out how to test it for free.
What are the pros of Jarvis?
Now let's talk about what, in my opinion, are the biggest pros of using Jarvis.
It helps you break the infamous writer's block by generating ideas and also gives you direction for your content when you feel stuck.
Generate and publish more content in a few days than you usually do. More content published on the web means more opportunities for you to appear in front of your potential customers.
Intuitive interface that helps you get started right away without having to go through a lot of training.
Access to a comprehensive free academy that guides you through everything you need to create SEO blog posts, sales and social copy with AI.
40+ powerful content and copy templates for different use cases: websites, ads, blogs, SEO, eCommerce, social and video.
Generate content for 26+ languages Jarvis supports.
What are the cons of Jarvis?
Although you don't need a lot of training, to effectively harness the power of Jarvis, you need to spend time going through the many resources available and learning from YouTube videos about how to use it to the best effect.
Sometimes you have to do a number of trials before you find a copy you can use.
This is, in my opinion, the main 'con'.
You have to study this tool very well to be able to use it in the best way.
Conclusion
Jarvis AI, while still lacking various features that will make it super easy for content creators to be truly productive, is a great AI writing tool that you can use to create high-quality content in minutes.
Remember that you can try this tool directly using the link to have exclusive advantages.
Let me know in the comments what you think and if you have doubts or questions write to me and I will answer you soon.
See you in the next article!