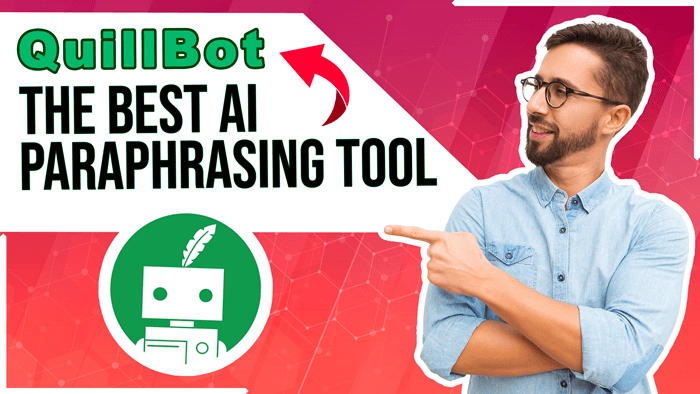 Do you face difficulty in rephrasing the sentences while writing articles or blogs? Find out how to get enhanced sentence framing in quick turnaround time.
Today I present to you Quillbot! A state-of-the-art AI paraphrasing tool that helps you enhance your sentences by giving you multiple rephrasing choices!
By reading this article, you will discover:
What is Quillbot?
What are its features?
What are the pros?
What are the cons?
Verdict
Hi, my name is Jason and, on my website, you will find many articles that will help you discover the best tools for your business to grow your business.
Let's get started!
First, let's talk about what is Quillbot?
Quillbot is an effective paraphrasing tool that integrates both high-quality functionalities combined with a good price.
Like most other machine learning writing software, the best features and functionality aren't available in the free plan, but it does offer quality results for those who can afford it.
The platform offers an all-in-one writing solution for everyone. Here you can find everything you need to create a perfect piece of content.
QuillBot is a superb writing tool for academic purposes, as well as those in the news, media, or marketing industries can also benefit from Quillbot's fast and simple approach to enhance their writing time, which is particularly useful when working with press releases or related public materials.
Now, let's talk about what are the features of Quillbot?
The main feature of Quillbot is the ability to rewrite sentences from existing articles and make them easier for you to read, understand, and learn.
The summarizer feature in QuillBot can be used to help reduce articles, papers, or documents to their most important points. Natural language processing is used by Quillbot's AI to identify crucial data while preserving the original context.
There are two available methods within the summarize feature. One is Key Sentences, that is a compilation of the most essential sentences in bullet list form.
While, in the Paragraph format, it will produce a separate paragraph that summarizes the topic with an adjustable length setting.
The integrated Grammar Check feature within Quillbot detects and corrects a wide range of punctuation and spelling mistakes. This helps save time while you rewrite content by allowing the tool to do all the heavy lifting.
One-click finds all grammatical errors and suggests the proper fixes. When the grammar checker points out errors in your work, it serves as a visual cue to make you aware of the problems. Quillbot's grammar checking is claimed to outperform other such tools on the market due to their AI-powered models.
Creative mode gives the bot more freedom in choosing the phrasing and word choice of your sentences. It is best used to express an idea in a completely new way. As a result, there is a higher chance that the meaning might change or cause grammatical errors.
If you want to try this tool or just have a look, then click here.
And now let's see what the Pros of this tool are.
Quillbot offers a clean and easy-to-use interface that even a complete beginner could understand. In case, you are struggling with something, it has an informative Help Centre where you can find guides on every feature of this tool.
Creating content for the web or social media can be a tricky task, but Quillbot can help assist you with this whether it is a full-blown blog post or simply a short paragraph. While it doesn't have any built-in SEO features like Jasper or SurferSeo, it functions much better for paraphrasing than most article rewriters or content spinners.
You can take advantage of Quillbot features from Microsoft Word, Google Chrome, and Google Docs, as this tool offers extensions to these applications.
With it, you can restructure, rearrange, and wholly rearrange sentences without changing the original text's meaning. It comes in many editing modes, including Standard and Fluency.
QuillBot removes extra words in Shorten mode and makes the sentence concise all without changing the context. It is useful when writing content in fields with limited characters and word counts.
Quillbot allows you to quickly and easily generate citations for essays, presentations, and documents. This feature also comes completely for free, and everyone can access it.
You can either citate a book or a website, and you can do it in three different styles – APA Citation, MLA Format, and Chicago Style Citation.
But are there cons?
Well, even the best tools have limitations, and Quillbot is no different.
Unfortunately, their Summarizer feature in premium plan still has limited words.
Verdict
So, should you use Quillbot to enhance your writing skills? Well, absolutely! Quillbot's quick paraphrasing enables users to quickly turn around original content from various source materials.
This is ideal for students at college and university levels, mainly because QuillBot acts as an academic writing tool that comes in handy with essays, dissertations and research papers.
If you are working in the news or media, Quillbot allows for a quick and easy way to improve your writing time especially when working off press releases or related press materials. You'll be able to paraphrase original source content into original, unique paragraphs or summarize long bodies of content to just get to the core elements.
So, have you ever tried it, or would you like to test it?
Remember that you can try this tool directly by clicking here to get exclusive benefits.
Let me know in the comments what you think and if you have any doubts or questions write to me and I'll get back to you soon.
See you in the next article!