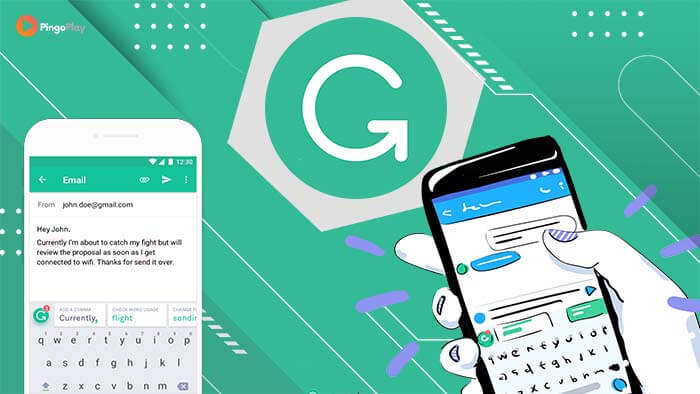 Hello and welcome to my website!
Do you know the easiest way to write dozens of articles without any error?
Today I present to you GRAMMARLY! Grammarly is a cloud-based writing assistant that helps improve writing skills.
By reading this article, you will discover:
What is GRAMMARLY?
What does Grammarly do?
How to use it?
Is Grammarly premium worth to use?
Hi, my name is Jason and, on my site, you will find many articles that will help you discover the best tools for your business to grow your business.
Let's get started!
First, let's talk about what is GRAMMARLY?
Grammarly is a "writing assistant" that writers, job seekers, and other professionals can use to proofread and edit their documents.
It checks for more than 250 types of grammar, spelling, and punctuation errors, and it enhances vocabulary usage.
Grammarly goes well beyond traditional tools that have been offered through Word and email platforms because it allows users to choose editing input based on six different styles of writing such as academic, casual, business, technical, creative and general.
Grammarly has been available since 2009. It's a sophisticated artificial intelligence (AI) system that's been honed and improved upon consistently over the years, built by linguists and engineers who developed algorithms to detect patterns of good writing.
It also indicates that its AI system reviews every sentence and searches for appropriate replacements for errors when any are found. It's a cloud-based program.
Both a web version and a version that integrates with MS Word are available.
Now, let's talk about what does Grammarly do?
Essentially, Grammarly scans a piece of writing, and using artificial intelligence, identifies writing mistakes, errors and other issues.
It includes the essential tools which detects grammar and punctuation errors of all types.
It also provides real-time suggestions and guidelines on how to correct these mistakes, for example, errant commas, misplaced apostrophes and other common punctuation mistakes.
Moreover, its a robust spell-check tool. You can also add words to a custom dictionary and even create a dedicated style guide, using the business version.
Grammarly scans clunky sentences, paragraphs and passages. It determines the ideal age group for a writing sample. It also flags readability issues based on Character count, Word-count, reading time, and Speaking time. Then, using AI technology, Grammarly proposes rewrites that are more concise and clearer for the reader.
You also get word choice suggestions and rewrites based on the ideal audience and tone of a piece, as determined by the writer.
It offers a downloadable report that you can send to another writer or editor. It provides metrics and information that can be used to improve a piece of writing.
And most importantly, it detects plagiarism by comparing a piece of writing to billions of web pages across the web. So, you get articles with a plagiarism score and links that an editor can check.
If you want to try this tool or just have a look, then click here.
Now, let's talk about how to use it?
First, you need to create an account using your Google or Facebook account, Facebook or your best email address. It's fine to start with the free version.
Now, you can use Grammarly in several different ways such as you can access the Grammarly web app via app.grammarly.com. Then, paste a piece of writing directly into the web app. It'll scan your writing and propose fixes. You can then download the results or copy and paste it back into your writing app of choice.
Also, you can download a desktop app for Windows or Mac. These apps require internet access to use. They're quite useful as you can drag a file or Word doc directly into the app and check it. They also update automatically in the background.
The apps also support rich text formatting, meaning you can copy formatted articles from the app back into your writing or publishing app of choice.
Grammarly excels with its array of plugins for Safari, Chrome, Firefox, and Microsoft Edge. After installing the plugin, login to your account. Now, Grammarly automatically scans pieces of writing in your web browser. You can use it like a pop-up to check emails in Gmail, your latest social media posts and more, on the fly.
The Grammarly Chrome and other extensions are useful for checking emails, social media posts and anywhere you write online.
Grammarly also offers an officially supported plugin for Microsoft Office. Once installed, you can check and fix an article, report or email directly inside Microsoft Word or Outlook.
It also includes an official smartphone keyboard app for iOS and Android devices. Once activated, the keyboard app will check your writing as you compose a text message or email. It's useful for fixing mistakes while working on the go. It also includes smart predictions to speed up typing.
It's also possible to use Grammarly indirectly with other apps, assuming you are comfortable with the desktop app.
If you're on a budget, install the free browser extension and test it for yourself. It's ideal for writers and bloggers with a minimal budget for writing tools.
The free version contains most of the features of Grammarly Premium apart from an advanced grammar checker, a plagiarism detector and some vocabulary enhancement suggestions.
It underlines potential grammar mistakes in red and also propose basic rewrites and fixes. You can also switch between Canadian, US, British, and Australian English. It catches more mistakes than a basic grammar or spellchecker and you can try it, without spending money.
When you're ready to upgrade to the paid version, Grammarly Premium contains a number of additional checks and tools for those who write and publish content online regularly.
It also provides additional writing insights and an ability to set writing goals. It also finds and fixes more mistakes than the free version.
The best Grammarly premium tools include the plagiarism report, Overused words, Inappropriate tone, Readability scores and reports, and an advanced writing assistant.
Also, you can upgrade to Grammarly Premium for a month and cancel when you're done. Or you could upgrade for the entire year if you plan to use it regularly.
So, is Grammarly premium worth using for your writing projects?
Well, indeed it is. You can write and publish several dozen articles across several content websites each week. You can also edit articles for these sites with the help of this tool.
For bloggers, it gets difficult to edit and publish several dozen articles without the help of a reliable premium grammar checker that can spot issues that we usually miss.
Bloggers can also use their plagiarism checker regularly when commissioning work by new freelance writers.
Moreover, you get a chance to learn a lot about the finer points of English grammar thanks to this tool.
So, have you ever tried it, or would you like to test it?
Remember that you can try this tool directly by clicking here for exclusive benefits.
Let me know in the comments what you think and if you have any doubts or questions write to me and I'll get back to you soon.
See you in the next article!