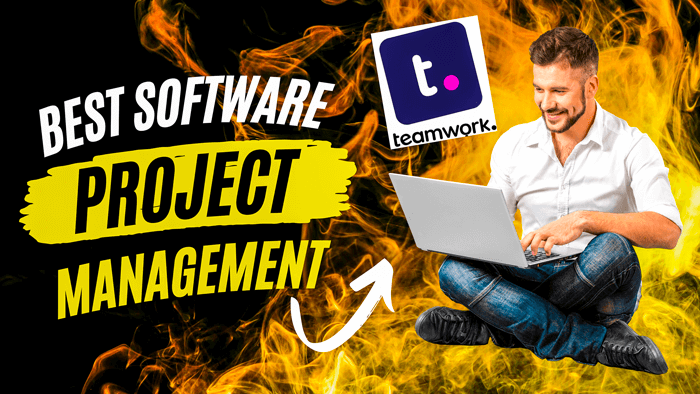 Hello and welcome to my website!
Do you know the easiest way to manage your work projects?
Today I present to you TEAMWORK! A project management platform made specifically for teams that need to manage multiple clients and projects all in one place!
By reading this article, you will discover:
What is TEAMWORK?
What are its features?
What are the pros?
What are the cons?
Verdict
Hi, my name is Jason and, on my website, you will find many articles that will help you discover the best tools for your business to grow your business.
Let's get started!
First, let's talk about what is TEAMWORK?
Teamwork is a cloud-based project management solution that provides businesses functionalities to manage different operations of a project.
The founders, Peter Coppinger and Daniel Mackey, began their collaboration almost 15 years ago. Digital Crew, the company they founded together, specialized only in creating websites, intranets, and custom web-based solutions.
However, the Ireland-based business quickly developed an international reputation for excellence. In early 2007, a client contacted Coppinger and Mackey and asked them to design a simple project management solution. Both men had already been thinking about a way to build intuitive, easy-to-use software, envisioning a product that would take minimal time to learn and maintain.
Naturally, they jumped at the chance to make this dream a reality. Inspired by other online applications, Coppinger and Mackey began work on the design of project management software that could be used by anyone, anywhere. By October of 2007, Teamwork Projects had been launched.
This project management software includes task lists, time tracking, file uploads and messages. Teamwork helps teams manage group objectives, communicate and establish business processes.
It's project scheduling feature allows project managers to define project tasks, assign them to people and track in-progress assignments.
The solution also involves document management, which allows users to share documents within the team through an online portal.
The client billing aspect allows users to generate invoices based on hours worked and expenses incurred.
Dashboards provide visibility into project objectives, while project collaboration features enable communication through mobile devices so team members and project managers can oversee project execution remotely.
Moreover, Teamwork can be integrated with applications such as FreshBooks, Dropbox, Google, Box and more. Services are offered on a monthly subscription basis that includes support via phone, email and FAQs.
Now, let's talk about what are the features of TEAMWORK?
Teamwork Projects include a Gantt chart for easy project planning. It provides full visibility of tasks and highlights any milestone on the project date line. Task management allows for quick creation of tasks and subtasks to help breakdown the workload. They can be assigned to one or multiple team members.
The project management software is a collaborative tool with a built-in message function, so users can directly communicate with the team with the proper work context. They can also group messages into appropriate categories. They can keep all important files in one place, as well as add updated versions with recorded history of changes. Notebooks allow users to write and share content on a project.
Teamwork Projects has a Board View that allows users to see the flow of tasks and activities, so they can get a fuller representation of their project's scope. Whether they use Scrum, Kanban, or other methodology, they get full visibility of logistics and task progress in real time. They can define columns for each process, use triggers, group categories with tags, and combine tags with filters.
If you want to try this tool or just have a look, then click here.
And now let's see what the Pros of this tool are.
Teamwork Projects is smartly and beautifully designed so that teams do not just have another set of tools but make it easy for them to do their work while reducing the complexity of collaboration.
It is also flexible enough for a variety of use cases, while promoting visibility and accountability, for successful project delivery.
Grow plan holders get a feature called Workload. It is essentially a resource management tool that lets you see how much work everyone has, based on estimated time to complete tasks and their deadlines, and the person's availability.
Teamwork comes with time-tracking as well, including an in-app timer you can launch while you work. If you don't track your time as you work, you can always add the number of hours or minutes worked manually.
Teamwork allows you to enter additional details, such as a description of the work, relevant tasks, and even tags. You can also mark time entries as billable or non-billable.
But are there cons?
Well, even the best software tools have limitations, and TEAMWORK is no different.
Unfortunately, TEAMWORK does not provide a PDF or image markup tools currently, which some users might not like.
Verdict
So, should you use TEAMWORK to manage your work projects efficiently? Well, Teamwork is easy to use and comes with a wide range of tools, including billing and invoicing, making it suitable for teams that handle billable client work.
With all the features you need to plan, collaborate on, and deliver your work, it takes care of the details, so your team's talents are freed to achieve the results that matter to your business.
Teamwork allows you to manage everything from delivering client projects, to executing marketing campaigns, to sprint planning and product launches.
So, have you ever tried it, or would you like to test it?
Remember that you can try this tool directly by clicking here for exclusive benefits.
Let me know in the comments what you think and if you have any doubts or questions write to me and I'll get back to you soon.
See you in the next article!