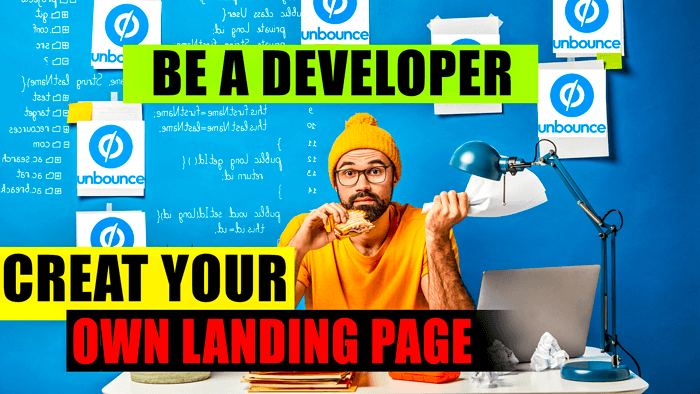 Hello and welcome to my website!
You're looking for a landing page builder that doesn't require coding skills.
Unbounce is the perfect solution for you! It's simple to use and packed with features that will help your business grow. Plus, it offers a wide range of templates and integrations to make sure your landing page looks great and delivers results.
By reading this article, you will discover:
What is Unbounce
Features of Unbounce
How you can use Unbounce
What are the benefits & Drawbacks of using Unbounce
How does it work from an SEO perspective.
Who can Benefits from Unbonce?
My Opinion about it.
And much more!
Hi, my name is Jason, and on my website, you will find many articles that will help you discover the best tools to grow your business.
So without further ado, let's get start.
What is Unbounce?
Unbounce is a platform that helps you create landing pages without having to hire a developer. It's really easy to use, and you can create a landing page in minutes. Plus, there are tons of templates to choose from, so you can create a landing page that perfectly suits your needs.
Features of Unbounce:
100% Responsive – Unbounce lets you build your landing pages using an amazing drag and drop auto responsive builder that works on any device.
Analytics Integration – Landing page is the perfect tool for getting more leads, signups & conversions out of Google Marketing Platform. You can also integrate other tracking tools like Adwords , Marketo , Salesforce and more.
1 Click A/B Testing – You can test your landing pages against each other and see which one succeeds better. You can also create a heat map of the most important elements to find out how they impact conversions.
Dynamic Text Replacement – Unbounce is smart enough that it will easily replace any text, image or anything else for that matter with any data you provide.
Search Engine Optimization (SEO) – With the help of Unbounce's Dynamic Text Replacement you can integrate your pages with all major search engines and drive traffic to your site organically.
How you can use Unbounce?
It's quite simple really. Unbounce acts like a portal for marketers and business people which allows them to create, publish and test different types of landing pages quickly and easily without having to hire any technical developer or agency.
You can design your very own page using their "Landing Page Wizard", pick the template that appeals most to you, choose your preferred color scheme, add a form or other opt-in feature, integrate your ecommerce platform and even add custom code to it.
The templates Unbounce offers are nicely designed and are responsive landing pages which make them compatible with any device. Also, each template is built to do one thing well, which makes it easier for you to create a good strategy around what you're promoting.
If the templates are not quite your style, don't worry! Unbounce also allows you to upload custom HTML pages.
For example if you already have a sales page on another platform, all you have to do is just upload it and publish it on Unbounce.
Benefits of using a Unbounce
By using Unbounce, you can create a landing page in no time. Just drag and drop the elements to make it look professional and you're all set! It's easy, simple and completely customizable!
And if you want to add some features, just simply connect your Unbounce account with Mailchimp or Aweber and your landing page is good to go!
Unbounce also offers a user-friendly interface, easy video tutorials and ebooks so you can learn all the basics easily. By taking advantage of their 1M+ users, they have generated 1M+ leads! Unbelievable right?
What are its disadvantages?
It would be nice to have a bit more flexibility in terms of design capability. That being said, they do include some nice templates that you can use for free. Also, I am not entirely convinced that their email service provider really offers some of the more compelling functionalities that you can get from some other popular providers. Other than that, unbounce is a solid option for anyone looking to do some really amazing things with their landing pages without having to pay a dev team.
How does unbounce work from an SEO perspective?
Unbounce has one of the best built-in SEO optimization components that I have seen in some time. They include both on page and off page search engine optimization into their service offering. This allows you to focus more on creating great content while they work on helping search engines find your website easily. Using this model, you can expect unbounce to draw interested users from search engines very well.
Who can Benefits from Unbounce?
Unbounce is perfect for marketers and business people who want to spend more time focusing on content and generating leads. Instead of spending time trying to code a landing page, you can simply choose from one of the thousands of attractive templates available in their library or upload your own custom HTML landing pages.
Another great example is if you want to create a landing page for your business but don't have a web developer on hand. By using Unbounce, you can create a professional looking landing page without having to learn how to code!
In my opinion Unbounce offers an outstanding value. You get solid functionality and several great features that help you get the most out of your landing page. Unbounce is a great solution for anyone who wants to do more than just put up a webpage and expect it to generate leads. You can't go wrong with this service!
So, what are you waiting for? Try out their service today by clicking here for exclusive offers.
Let me know in the comments what you think and if you have any doubts or questions write to me and I'll get back to you soon.
See you in the next article!