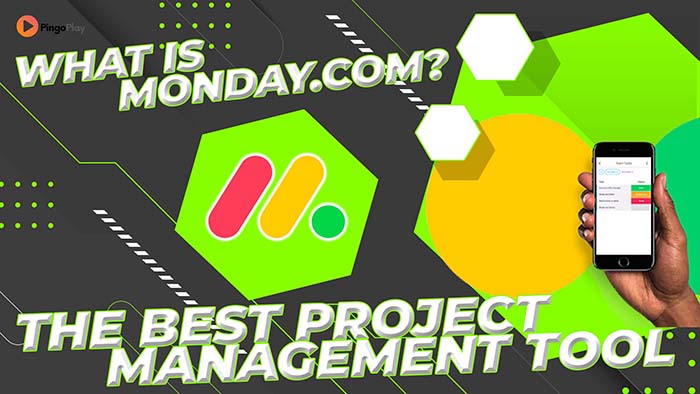 Today we are going to see together one of the best project management tools on the market: Monday.com.
In this article we will analyse the following topics:
What Is monday.com
What Can You Use monday.com
What are the main benefits of using monday.com
What Is Monday.com
Monday.com is a cloud-based business operating system that may be utilized for a variety of purposes.
Monday.com is used by more than 110,000 businesses for project management, sales and CRM, marketing, design, software development, asset management, operations, human resources and recruitment, IT management and more.
Monday.com is based in Tel Aviv, Israel, and has offices across Australia, the United States, and the United Kingdom.
daPulse was the name of Monday.com when it was founded in 2012.
Here is my TOP 10 of what will be the best project management software in 2022
:
In 2014, it was made available to the public and was subsequently renamed to Monday.com in 2017.
Monday.com was recognized by Deloitte as one of the 15 fastest-growing businesses in the same year.
Monday.com was worth more than $1 billion in 2019 after several funding rounds.
It implies that the firm has achieved unicorn status, joining the ranks of other major tech firms such as ByteDance, SpaceX, and Stripe.
Monday.com has won two Webby Awards for work and productivity software in 2019 and 2020.
Monday.com debuted "monday 2.0" in 2020 as a "working operating system that allows businesses of all sizes to create bespoke apps that fit their specific requirements."
In May 2021, the firm filed an IPO and became a publicly traded business in June 2021.
What can you use monday.com for
The possibilities of using monday.com are very diverse.
You can use the monday.com software for:
Video production planning
Sales pipelines
Business processes
Event management
Design planning
Bug tracking
Marketing campaigns
Recruitment processes
Construction planning
Progress monitoring
Product roadmaps
… and much more
Monday.com is used by more than 100,000 organizations in a variety of sectors worldwide. From major corporations like Wix and The Discovery Channel to modest firms just getting started, we've seen teams from all types of industries.
What are the main benefits of using monday.com
Here are the main benefits of Monday.com in detail
Total customisation and control
monday.com is fully customisable to suit your needs.
This implies you may develop your workflows in any manner that is most beneficial for you and your team.
So, how does it work?
The building blocks of monday.com are Tabs, Groups, Columns, and Elements.
A tab is spreadsheet-free software that's more flexible, intuitive, and simple to share than traditional spreadsheets.
A group is a collection of sections on your board that represent whatever you want, such as "Weekly Action Items."
Each group has one or more columns that you may label, such as Owner, Status, and Priority.
There are rows in the department group called Items, and you can add as many as you want.
Each item in the group covers "all that's required" to complete the project's tasks.
Monday.com enables you to alter your project plans at any time, so there's no need to worry about missed deadlines or other problems affecting your schedule.
As few things are really set in stone, you may easily add, change, remove, and reorder items, columns, and groups in your noticeboard with ease.
If you don't want to start from scratch, monday.com has over 100 different pre-made templates that will assist you with everything from your budget to your sales pipeline.
You may even personalize these templates to make them unique!
Intuitive and easy to use
It can be daunting to take your staff from one business software to another, especially if it's their first time. You can relax on monday.com.
Monday.com provides a simple and user-friendly interface with colour-coded labels, making it easy to use.
In terms of design, you can use whatever colours you want, but the primary goal is to make your work more visible and easy to grasp. You have complete control over what each colour symbolizes, such as green for 'Done' status or blue for 'High' priority.
The best news is that it isn't necessary to be a techie to feel at ease with the process. It's really simple for anybody. And this is really important because if everyone feels comfortable using the platform from the start, then everyone will like it and want to utilize it.
You begin to see what a fantastic time you'll have once you sign up for monday.com, as well as all of the great ways it makes your working day more pleasurable.
Better communication, collaboration and visibility
Goodbye to tedious daily synchronization meetings and endless email threads; And the agony of not knowing where essential files and resources are; And asking someone for the nth time what the situation is.
You already know that these are all time-consuming and ineffective techniques of accomplishing things. Instead, you may have all of your tasks on monday.com, making everyone's life more convenient, especially yours.
monday.com does all of this for you, making it easy for you to manage your time and keep track of what's going on at the office. You can also add team members to your boards and delegate the work that needs to be completed by assigning one or more team members to each task.
Having your team's activities all centralized allows you to keep track of how things are progressing. You have complete insight into who is working on what and what has been completed, pending your approval.
Your team is able to see your high-level objectives, milestones, deadlines, and updates at all times, so everyone stays on the same page and up to speed.
Each element has a designated area for communicating in the context of that element.
You can grant approvals, give comments, and make mention of relevant team members right here. You can also share files, briefings, updates, and even emojis – we have a fantastic selection!
We like to add elements that make people smile. After all, it's all about people, and it's important to have a little fun while you do your job (wait until you see Llama Farm)!
6 most useful features of Monday.com
Aside from customisable processes, task prioritisation, file sharing, drag-and-drop, in-context communication, progress monitoring, and milestones, monday.com also has:
Work allocation
It's tough to keep everyone on track without complete knowledge of their resources. With Workload, you may precisely assign and schedule team members at any moment.
You can also use this feature to see who is free and who isn't, allowing you to reschedule or reassign tasks as required to assure that all project deadlines are met.
Time tracking
Knowing where your time is going is critical, especially if you charge clients by the hour.
According to one poll, 40% of 500 respondents claimed that they never keep track of the time they spend writing emails, which steals away a significant amount of their time.
The most efficient way to increase your productivity is to get a thorough knowledge of how much time is spent on each activity. This also aids in the development of better, more educated judgments about how best to use your time.
Dashboards
Dashboards are an excellent means to get a quick overview of what's important. It makes it simple to gain key insights and track project progress while keeping tabs on costs.
It also keeps your team focused and energized on the organization's major objectives, which propel progress forward.
Integrations
Is it hard to manage multiple tools in order to complete the task? With two-click integrations, make monday.com your primary work destination with ease.
Interact with external tools like Jira and Slack, as well as Gmail and Mailchimp, to simplify your working process.
Visualizations
The data on your boards may be visualised in a variety of ways, including using Gantt Charts to create project plans and Chart Views for monitoring progress.
Views offer you the ability to look at things from a fresh perspective and gather important information that you may otherwise have missed.
Automations
Automations handle the time-consuming, monotonous activities involved in completing repetitive tasks.
Do you want to notify someone when a project is completed? Monday.com relieves you of this responsibility so that you may be more productive on work that truly needs your time and attention.
Conclusion
Monday.com is also available as a web app for laptops and desktop computers, as well as a mobile app for smartphones and tablets.
All project data and files are kept in the cloud, so they can be viewed on any device.
Monday.com adapts to your schedule. If you're still working on that project at midnight on Wednesday to meet your deadline, need help understanding pricing plans, or simply want to know how to begin, the monday.com customer care team is available 24 hours a day, seven days a week to answer your queries.
Have you ever heard of Monday.com? What are your thoughts on it?
See you in the next article!