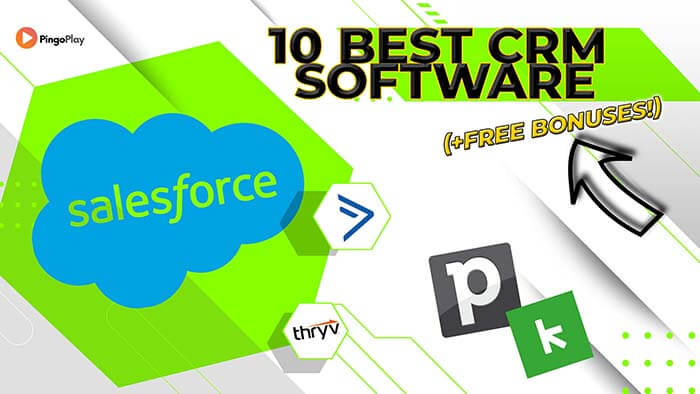 What is CRM Software?
Customer relationship management (CRM) software, often known as sales force automation software (SFA), is a computer program that allows companies to track and manage customer interactions in one place.
A CRM tracks interactions between a firm, its prospects, and current customers.
This will also help to promote these encounters by putting all essential consumer data – including contact information, histories, and transaction summaries – into a concise live record.
CRM software is most often used in sales departments to automate contact, account, and opportunity management.
Although CRM software is frequently provided as a standalone business solution, it's frequently linked with other company applications to improve the customer experience.
Hi, my name is Jason and today we're going to review the list of the top 10 CRM software.
You'll find many videos on my channel Pingpoplay that will help you discover the best tools for your company, such as those that discuss the finest ERP systems mentioned above.
Let's get started!
To be eligible for inclusion in the CRM category, a product must meet the following requirements:
Provide a delimited set of sales-related functions;
Consolidate customer history and transactions into a single interface;
Track prospects and contacts throughout the sales pipeline;
Facilitate communication at all stages of the customer lifecycle;
Integrate functions into a unifying database and platform.
Let's take a look at my Top 10 together.
Salesforce


Salesforce helps businesses of all sizes grow faster by automating processes and making better judgments so they may sell more.
Salesforce CRM offers:
Lead & Contact Management
Sales Opportunity Management
Workflow Rules & Automation
Customizable Reports & Dashboards
Mobile Application.
You find the link Salesforce official site for to get more information and to try it out.
HubSpot Sales Hub
Sales Hub is a comprehensive and easy-to-use sales CRM that includes sales engagement tools, configurable pricing quotes (CPQ) functionality, and robust sales analysis for growing teams.
Sales Hub is based on HubSpot's CRM system, which combines consumer information, tools, and teams to provide a single source of truth for improved sales rep efficiency.
Reps can achieve more precise insights, warm leads, and associated enablement materials when they utilize the complete CRM platform.
Plus, tap into the large app and solution partners to develop an exceptional end-to-end customer experience.
In the link, you'll discover a link to learn more and test it out.
ActiveCampaign
More than 100,000 organizations in 170 countries use ActiveCampaign's category-defining customer experience automation (CXA) platform to engage meaningfully with their customers.

The platform's pre-built automation integrates email marketing, marketing automation, and CRM to allow for sophisticated segmentation and personalisation across social networks, email, messaging, chat, and text.
ActiveCampaign has over 850 integrations, according to the company's website. Shopify, Square, Facebook, and Salesforce are among the most popular ones.
Silos are being broken down in between data sources, communication channels, and teams in order to scale companies' 1-1 personal customer relationships through connected experiences that span the consumer lifecycle with ActiveCampaign and the Customer Experience Automation (CXA) category.
What are some of the things you may do with ActiveCampaign?
Automate personalised experiences at all customer touchpoints
Track buyer preferences, behaviour and many personalised attributes throughout the customer lifecycle for deeper segmentation and greater effectiveness
Customise mailings based on almost any parameter, so that messages are always targeted to the right audience
Use data from the entire customer lifecycle to choose the best content, send time and delivery channels for each customer
Create fully personalised campaigns with minimal effort, then improve your delivery strategy in real-time based on customer behaviour
Replicate the personal 1-1 experience for every customer, regardless of the size of your business.
You find the link to get more information
Zoho
Zoho CRM is a cloud-based customer relationship management system that caters to the demands of organizations and industries of all sizes and sorts.

Zoho CRM is used by over 150,000 organizations around the world to develop long-term customer connections while also maximizing team productivity.
Zoho CRM offers comprehensive omnichannel support, including phone, email, live chat, social media interactions, and in-person meetings. Zoho CRM is one of the most tightly integrated packages on the market because to its extensive omnichannel support.
Key features include:
Lead Management
Workflow Automation
Advanced Analytics
Process Management
Marketing Automation
iOS and Android Apps (with business card scanner)
Developer Platform Automate routine sales, marketing and support functions with Zoho CRM, giving you more time to focus on your customers.
Simplify your processes with automated data input, redundancies, and time savings.
Accurate estimates of potential income and use productivity games to exceed your sales targets.
Create several currencies, prioritize leads and deals that are likely to convert using AI predictions, and measure website visits to improve conversion rates.
Zoho is an AI helper that comes with Zoho CRM and can aid you in managing your CRM data.
Zoho can retrieve the data you need, take notes, predict the future of a transaction, detect anomalies, automate activities, and so much more!
Using Google Ads integration, you may gather new leads, create email marketing campaigns focused on specific audiences and measure ad spend to sales revenue.
Zoho CRM's developer platform and SDKs can help you create and deploy secure, scalable, business-grade solutions.
Build integrated systems, deliver personalised user experiences and develop web and mobile apps.
Go to the link for Zoho more information
Freshsales
Freshsales gives salespeople everything they need to attract high-quality leads, engage in context conversations, generate business with AI-powered insights, and nurture customer relationships.

Freshsales integrates sales teams' daily activities into a more efficient and productive environment with email, phone, chat, and telephony capabilities.
With Freddy AI, salespeople can gain insights into the greatest prospects to pursue and actions to take, as well as revenue forecasts.
Not only that, but the option to utilize native CPQ makes generating and sharing quotations and other vital sales materials a snap.
You'll discover a link to learn more and test it out.
Pipedrive
Pipedrive is a customer relationship management system that many businesses appreciate.
Sales teams are drawn to a CRM with a simple yet powerful design that prioritizes usability, with more than 95,000 paying customers in 179 countries.

Nothing goes unnoticed when you use Pipedrive, allowing your staff to spend less time filing and more time selling with CRM software that is both agile and strong.
You find the link in the description for to get more information and to try it out
Monday.com
monday.com Work OS is an open platform where anyone can create the tools they need to manage every aspect of their work.

The simple to navigate, the visual user interface provides building blocks such as Apps and integrations, allowing teams to create or modify the work solutions of their dreams with ease.
Monday.com gives a collaborative space for your teams to stay aligned, agile, and efficient in all they do, whether you need to streamline your sales pipeline, want to establish a marketing campaign procedure, run a strong CRM system, or create a project management tracker.
There is a direct link to find out more and try it out with a bonus for you.
Keap (formerly Infusionsoft)
Take your company to the next level with the all-in-one CRM, sales and marketing automation solution that was created to help you grow your business.

Customer management, fewer repetitive tasks, simple automation and linked applications.
Keap's objective is to help you develop, whether you go with Max, Max Classic (formerly known as Infusionsoft), Pro, or Lite from the versatile product choices.
You'll discover a link to learn more and test it out.
Thryv
Thryv is a customer experience platform designed specifically for small enterprises.
Get expert help with quick turnarounds, 24/7, from specialists who understand the needs of small business owners and can assist you with your unique objectives.
Thryv automates duties and puts consumers at the heart of your business, with simple-to-use software that makes it easy to connect with more people, stay organized, get paid quicker, and automatically produce reviews.
Thryv makes it easy for customers to:
Find you online through ratings and reviews, social presence and accurate search results.
Interact easily and instantly, receive reminders, send texts and emails and schedule appointments.
Pay yourself effortlessly, receive receipts instantly, know it's safe and secure and choose how to pay.
Stay involved with automatic messages asking them to come back, stay in touch and request reviews.
Thryv's award-winning software is currently assisting over 45,000 businesses in transforming the way they conduct business and manage their customers.
You find the link for to get more information and to try it out.
SharpSpring
SharpSpring, a Constant Contact company, is a revenue growth marketing platform that helps small businesses generate leads, improve conversions to sales, and get more return on marketing investment.

The flexible contracts, open architecture, and free customer service all contribute to real outcomes for a growing company or digital marketing agency.
You'll discover a link to learn more and test it out
What are your thoughts on this TOP 10 list? Which one would you like to try first?
In the comments, tell me what you think.
See you in the next review!